Description
Product Specification
Item Name: ANLAN Blackhead remover
Product Model: KS-X006
Material: ABS+Electroplated+Silicone
Size: 7.87*4.5*1.8 inch
Weight: 32g
Input Voltage :5V/1A
Lithium Battery Capacity: 800mah
Charging Time: 2hours
Power : 3.7V/5W
Product Features
Remove Blackhead Effectively– Cool & Hot Double Treatment
–The hot compress function can opens the pores quickly and accelerates the elimination of dirt,promote skin blood circulation and skin absorption of the nutrients.
–The cold compress will shrinks the pores after using the machine, soothing the cleansed skin. Also it works well against skin oil secretion, which prevents the acne and blackhead appears again.
3 Replacement Suction Heads
–It's suitable for different skin types. Help you easily solve all facial problems, like blackhead,acne, coarse pore, rough skin, dark skin, dead skin.
–3d vacuum suction method, cleaning your skin cacuum negative pressure
How to use
Step 1: Turn on the machine and choose the"Hot mode button"to use the hot compress to open your pores about 5 minutes.
Step 2: Clean the face. Pour some black export liquid on a cotton pads, apply it on your nose.
Step 3: Choose the proper level and close to your face to remove blackheads, Short and fast shots and repel blackheads horizontally. Use 5~10 minutes one time. (Note: first time don't put too much strength and don't stay in one place more than 3 seconds)
Step 4: Choose "cool mode button", the cool compress on your face about 3 minutes to shrink the pores.
Step 5: Apply some skin care products like facial mask for better effect.
Note
The most important thing about using this machine is to find the right angle. Short and fast shots and repel blackheads horizontally. Do not suck the blackhead at a 90 degree angle, it could damage the skin.
Package
1*Machine
3 * Beauty Heads
1 * Bag
1 * USB Charging Cable
1 * User manual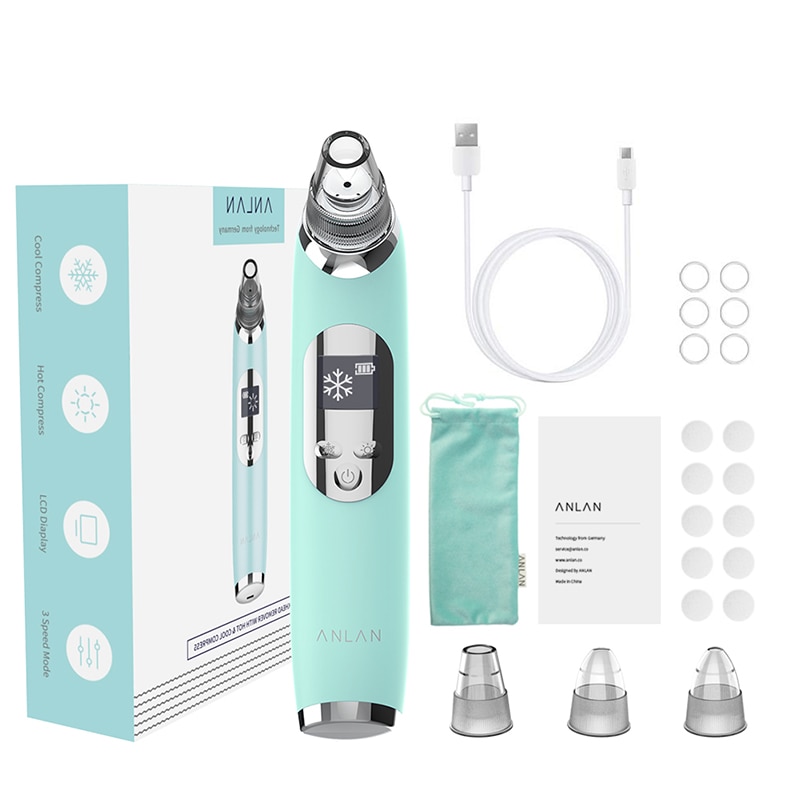 Brand Story
Founded in 2014, ANLAN is a professional beauty brand that focuses on technology skin care.
Since its inception, ANLAN has been researching cutting-edge technology. Each product has to go through more than 2,000 tests before it goes on the market, continuously improving the technology and verifying the safety and effectiveness of the product.