Description
Product Introduce
Name: Facial Cleansing Brush with Light Therapy
Rated Power:4W
Power Supply: DC 5V/1A
Waterproof:IPX7
Material:Medical grade silicone + Iron + Stainless steel
Size:36*66mm
1.Lampshade
2.Massage head
3. Sensor bar
4. Makeup ring
5. Downshift button
6. Upshift button
7. Power/mode button
8. Silicone brush
9. Charging port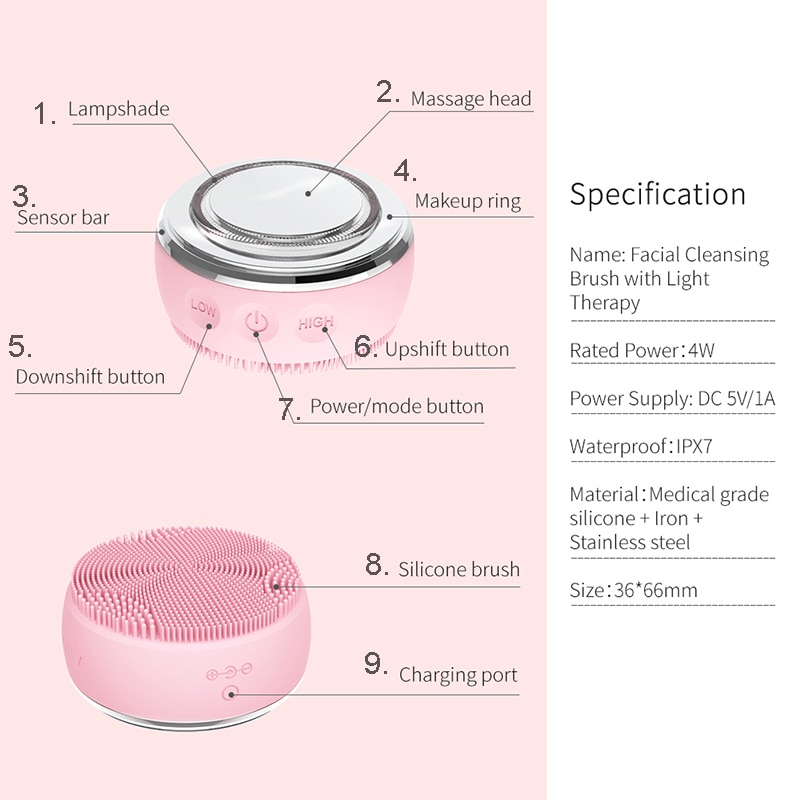 1.Soft Bristles Made Of Medical-Grade Silicone
2.Four Phototherapy/LED Therapy
3.Metal ring holds for makeup remover cotton
4.Waterproof charging port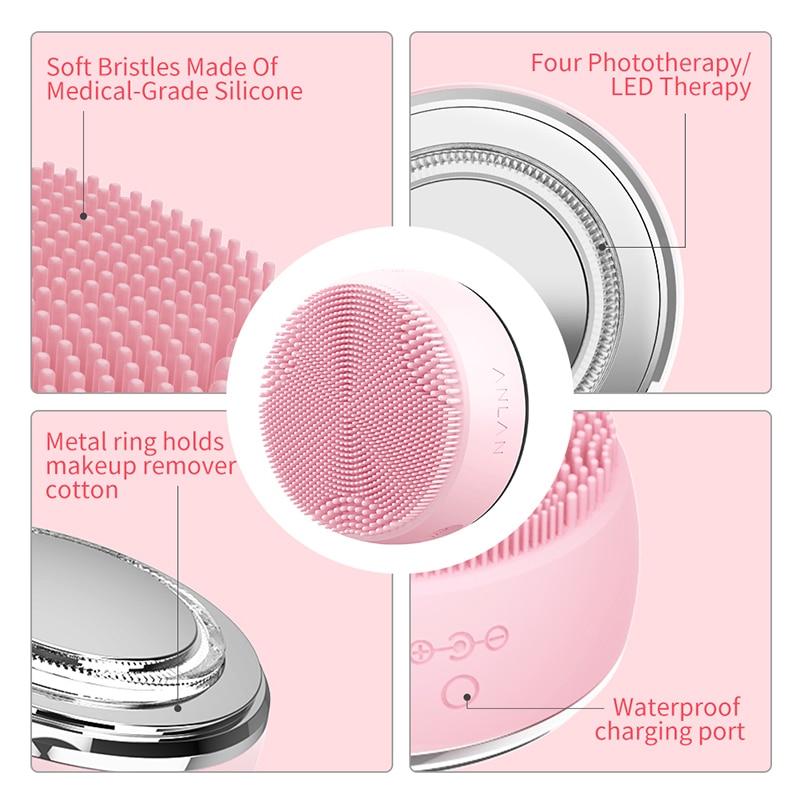 Deep Cleanse & No Residue
Wash your face with the hand (traditional)
Wash your face with ANLAN facial cleaner(innovative)
4 KINDS OF COLOR LIGHT MODE
RED LED: skin treatment, increase skin elasticity
GREEN LED: improve skin tone, skin cleaning
BLUE LED: shrink pores, relieve pain
PURPLE LED: skin tightening, skin care
PROTABLE
You can also use it while travelling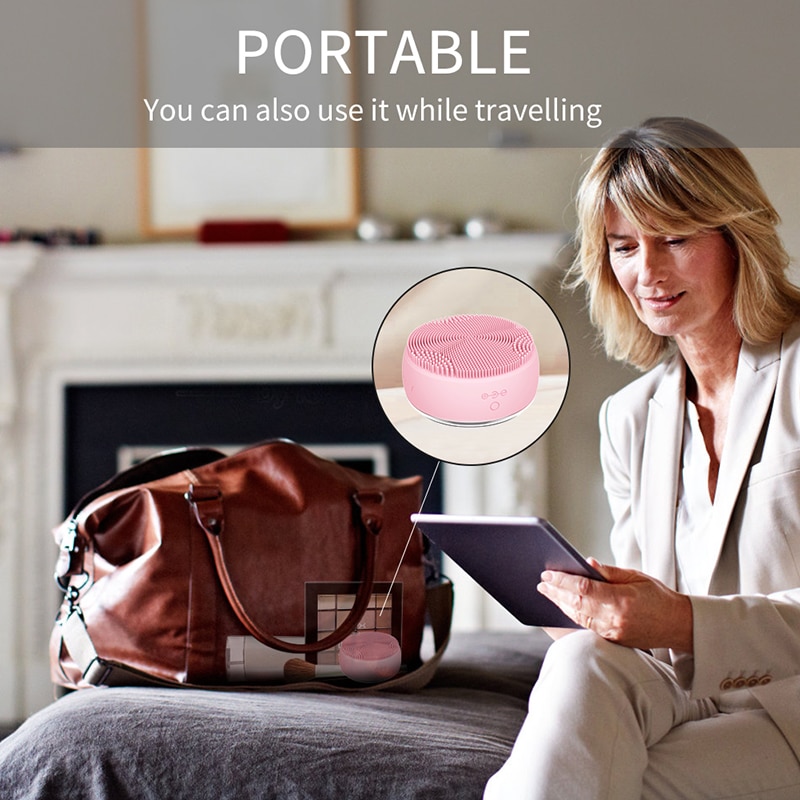 WATERPROOF
You can also use it in the shower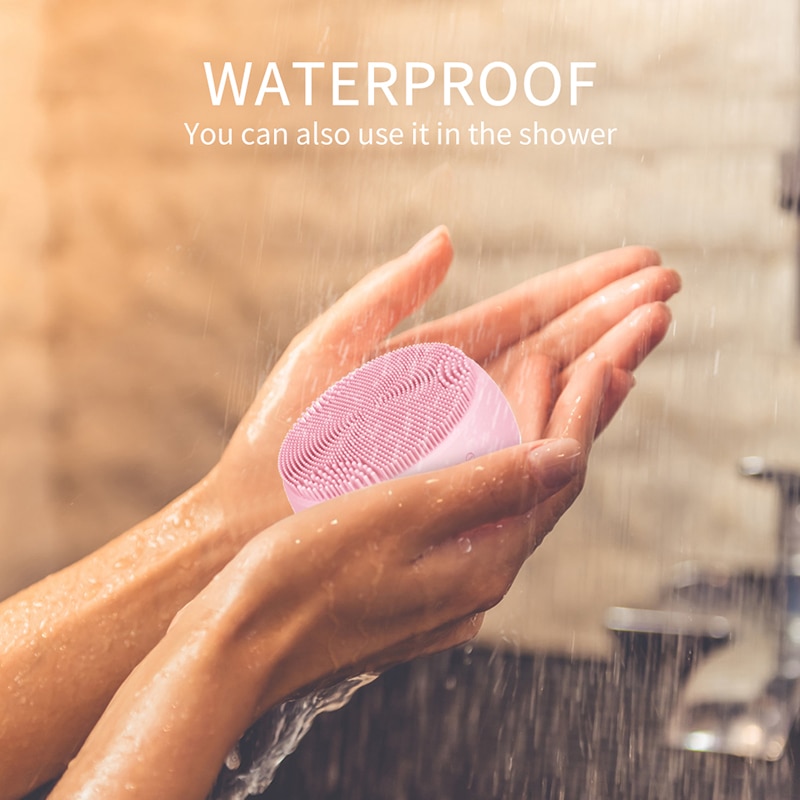 ANLAN helps you to explore the beauty of you
Functional
ANLAN Facial cleanser is a multi-functional product that integrates deep cleaning, restore skin and skin lifting etc. Simultaneously, it is also a facial beauty device that covers positive and negative ions +EMS micro current + hot compress + vibration + light therapy.
Positive ion and Negative ion:The use of positive and negative ions like repel, opposites attract the principle, when the active ion composition of skin care products encounters the same polarity of electrode, it will accelerate, and strengthen as a speed of one times faster to effectively penetrate into the deep skin.
Among them, the positive ion function will remove deep dirt and clean your skin thoroughly with makeup removal water; The negative ion function will penetrate some essence into the deep skin to restore the skin.
EMS Micro-current:The muscle can recover its elasticity by stimulating muscle with micro-current. Meanwhile, stimulating dermis with micro-current will also promote cells to produce more ATP, which is a kind of key substance for collagen production, can rapidly promote the growth of collagen.
40℃ Constant temperature:40℃ hot compress will promote absorption, stretch skin texture, skin also become fuller.
Vibration:Using mechanical vibration, voltage stimulation, make the skin tighten, enhance skin elasticity, promote the metabolism of skin cells.
Multiple phototherapy: blue light can repair the rough skin, make skin smooth, remove acne; Red light promotes the growth of collagen, effectively eliminates skin wrinkles and redundant melanin, and restores skin elasticity and luster.
Instructions:
* Press the power button to switch mode, and press the high/low button to adjust the current or vibration
* Use the export mode first, then cleansing mode
* Each mode has a usage time of 4 minutes. After 4 minutes of standby, press the power button again to work normally, and auto-off if there is no work in 1 minute
Brand Story
Founded in 2014, ANLAN is a professional beauty brand that focuses on technology skin care.
Since its inception, ANLAN has been researching cutting-edge technology. Each product has to go through more than 2,000 tests before it goes on the market, continuously improving the technology and verifying the safety and effectiveness of the product.